Ever bought an app and then wondered – "what was I thinking!" Buying apps is easy, almost frictionless, and with credit card details saved on devices and purchases sometimes not even requiring authentication, there's a good chance people have made purchases they've come to regret later. If you've ever been in those shoes, we are here to help.
Follow these steps to get a refund on any device – and it's not just apps, you can also use this to get refunds for books, movies, music, and more.
iTunes and Mac App Store
Apple has a website dedicated to resolving refund-related issues. This website covers paid apps (on both iOS and Mac), in-app purchases, books, films and music. You can use this website to request a refund for purchases made in the last 90 days. Here's how.
Open Apple's Report a Problem website and sign in with your Apple ID.
You'll see a list of apps sorted by date of purchase. Use the search box to search for the purchase and click the "Report a Problem" button next to the app.
Select a reason for seeking a refund from the drop-down menu and write your reason in the message box. This can include your not authorising the purchase, or an item not downloading or installing, and more. Click Submit.
Now you'll have to wait. If Apple decides that your grievance is legitimate, you'll get a refund within 48 hours. You'll be contacted via mail on your Apple-registered email id, letting you know whether you are getting a refund or not. Members in our team have gotten refunds in this way.
Google Play
Android users have access to a great refund feature – Google reportedly lets you get a refund up to two hours after you bought the app, though the official documentation still lists the refund window as 15 minutes. During this period, you can get a refund by following these steps:
Open Google Play Store on your Android device > tap the Play Store icon > My Apps.
Choose the app you want a refund for and tap Refund. The process is automatic and works without a hitch.
Given how easy it is to get a refund this way, you should definitely try out any new apps as soon as you download them, to see if they are worth the money.
If it has been more than two hours since you bought the app, you need to request refunds via a Web browser. Check these steps.
Open Google Play and sign in.
Now hover your mouse over the app you want a refund for > click the three dots icon (next to the name of the app) > Report a problem.
Select "I'd like to request a refund" from the drop-down menu and write your reason in the message box below. Click Submit.
Now you have to wait for Google to judge whether your refund request should be accepted or not.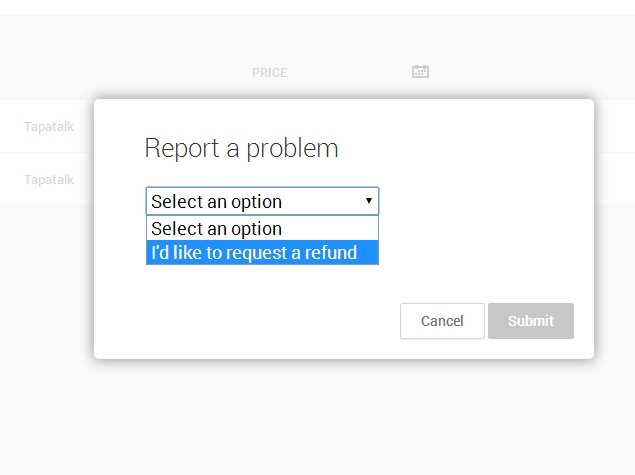 Windows Phone
Unlike iOS and Android, Windows Phone doesn't seem to have a clear-cut refund policy. We checked and all we could find on Windows Phone forums was a repeated suggestion to chat with the Windows Phone support team and ask them to refund.
Click this link and click on Chat. Sign in to to your Microsoft account.
Now describe your problem and click Submit. Once again, you'll have to wait for them to respond and depend on the company judging whether your grievance is genuine.
BlackBerry
BlackBerry has an official consumer support webpage where you can request refunds for apps by filling up a small form. You don't need to give a reason for asking for a refund in the form, just simple details like the order number and your phone PIN number:
Just open this page, fill the form and click Submit.
You're still dependent on BlackBerry to judge your case worthy of a refund. You will be contacted via email within 48 hours, where you can give more details about the reason for the refund request, and after that it is up to BlackBerry.
However, people seem to have mixed results with this. A lot of people have written in online forums saying that the refund was rejected. Most of the posts we found about successful refunds mention that the email from BlackBerry came within a few hours. We initiated an app refund of our own nearly 48 hours ago, but there has been no response from BlackBerry so far. We will update this if and when we get a response.
If all else fails, there is one more option you can try, though there is no guarantee that it will work. You can try writing to the developer of the app you want a refund for – in many cases, the developers themselves prefer to refund an app if there is a genuine problem, so it is always a good idea to ask. It's probably best to try the official methods first though, especially since developers don't have a way of 'refunding' money back to the card you paid with, and anything they can do will be a bit of a workaround.
Since refunds largely depend on the judgement of the person reviewing the request, it is best not to seek a refund when not justified. Some comments on forums mention that asking for refunds frequently led to emails from Apple which specifically state this as a reason for denying the request. If you've accidentally purchased an app, or an app doesn't work as advertised, you should of course apply for a refund, but it's best to exercise more caution before making a payment, than afterwards – don't use it as a way of 'try before buy' though.
We hope this helped you get a refund for apps you didn't intend to buy. Share your app refund experiences via the comments and visit our How to section for more useful articles.