In an earlier article, we described how you can track great deals on great iOS apps, but that information is of little use if you're an Android user. If you find yourself scouring dark corners of Google Play store in the hope of landing yourself a good deal, worry not, help is at hand. Android may not necessarily have the best paid apps, but it definitely has the best app for finding deals on paid apps. Read on.
AppSales
AppSales is our favourite discount tracking app, and it's only for Android. It comes with several advanced filtering options to narrow down your search. With this app, you can filter search results by the amount of discount being applied, or show only apps that have gone free, which had a minimum rating you set. Here's how to use it:
1. Install AppSales and run it. You'll see two tabs – Sales and Watchlist. The first tab shows all apps on sale and you can tap any of these and click the eye icon to add it to your watch list to track deals at a glance.
2. To filter your deal hunt, tap the three vertical dots icon on the top-right > Settings. The first option is Set filters. Select the minimum discount and rating here to narrow down on the best apps. You can also select app categories and configure notifications in the Settings menu.
One problem with the app is that you can only add 10 apps to your watch list for free. The app charges a subscription fee of around Rs. 250 per year to let you add up to 100 apps in this list.
You can also find the deals using the AppSales website. It doesn't have the same search tools, but it's a quick way to find deals.
Amazon Appstore for Android
The other option for Android (and BB10) users is to install the Amazon Appstore. The Amazon Appstore has daily freebies, and it usually keeps offering up really nice apps; there are also huge discounts from time to time. Recently Amazon gave away paid apps worth $100 for free – so installing this on your phone is definitely a good idea.
(Also see: How to Save Big on Windows Phone, BB10, Windows, and Mac Apps)
IFTTT
IFTTT, short for If This Then That, is a great service that lets you automate several tasks. You can make it do several things, such as send you alerts when the currency exchange rate crosses a threshold, for you. It has a channel called AppZapp, which lets you track app deals for top-rated apps. The process of setting it up for Android is similar to what we'd explained for iOS earlier.
1. Go to IFTTT > Create a Recipe.
2. You'll see this in huge font size: "if this then that". Click "this" > select AppZapp > scroll to the bottom > select one of six triggers.
3. Triggers are events that tell IFTTT to send you an alert. In the case of AppZapp, the triggers you can choose from are when a top-rated app goes on sale, goes free or gets an update. These three triggers are available for Apple's App Store and Google Play store. Pick the trigger you want to get relevant alerts, such as top app gone free.
4. Now choose your country (you can choose between US, UK or Germany, but no India) and category of apps you want an alert for. Now click Create Recipe.
5. The next step will show you the same text you saw in step 2. Instead of "this", you'll see the AppZapp icon. Now click on "that". This is where you select the kind of alerts you want. We recommend that you pick one of Email Digest and Android notifications. This will send you one email every day or a quick notification on your smartphone. You need to install the IFTTT app on your phone to get this to work.
We found this to be the best method to keep an eye on apps on sale or apps that go free due to the notifications. You can tap these notifications, tap the alert in the IFTTT app and you will be redirected to Google Play.
(Also see: Never Pay MRP: 3 Browser Extensions That Will Help You Save Money)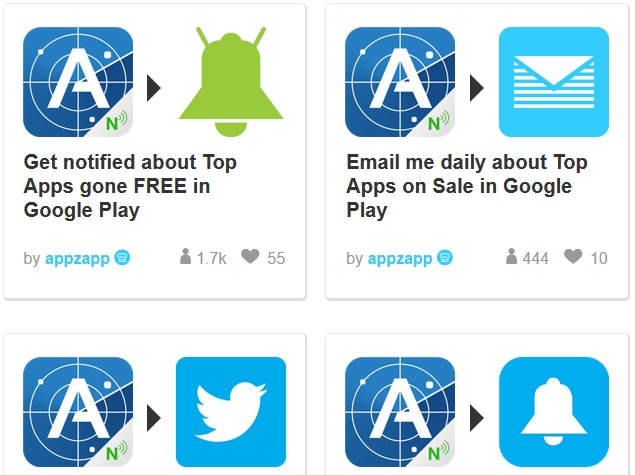 Now that we've covered how to find the best deals on Android and iOS apps, we are certain that Windows Phone, BlackBerry, PC and Mac users are feeling left out. There's no need to be sad as we have published an article describing how to save big on Windows Phone, BB10, Windows, and Mac Apps.
As always, visit our How to section for many more useful articles.
Affiliate links may be automatically generated – see our ethics statement for details.