As good as Twitter is to share your opinion and to follow news stories, it can be an unforgiving place sometimes. We've all encountered Internet trolls, but some of them get abusive and it can be very hard to deal with this on a daily basis. And then there are the contests that can completely take over your timeline. Luckily, Twitter has a couple of tools that let you get hide tweets from certain accounts. Whether someone is trolling too or spamming on Twitter, these tools will help you deal with the situation. Here's how.
(Also see: Twitter Power Search: How to Find Old Tweets From Your Timeline)
Mute
Twitter recently introduced the mute feature to its apps and the Web interface. This works if you want to hide tweets from someone without unfollowing them. We've found this feature useful when some people we follow had been posting several tweets for contests. We muted them for a day and this hid all the annoying contest tweets from our feed.
Muting is not the same as blocking. Muted users can follow you and send you direct messages. They can reply to your tweets and mention you in tweets. These will still show up in the notifications tab on Twitter. Another thing to remember is that tweets posted before you muted a person will show up on your timeline. The tweets posted after you muted him or her will not.
Here is how you can use this feature.
1. On the Web, click More below any tweet by the person you want to mute. Now click Mute. Alternatively, you can go to their profile page and click the gear icon > Mute. After you mute a person, the option to unmute will appear in the same place. Just open the profile, click the gear icon > Unmute.
2. On Twitter's Android and iOS apps, open any person's profile, tap the gear icon > Mute > Yes, I'm sure. The mute feature isn't yet available on Twitter's apps for other platforms yet.
3. To check if you've muted someone, just go to their profile page. If you see a red mute icon next to the gear icon, then you've muted them. A quick way to unmute is to simply tap or click this icon.
Certain third party services also allow you to mute keywords or hashtags. This is very useful if your timeline is being spammed by a Twitter contest, for example. Our favourite service is a paid app called Tweetbot (Rs. 300 on iPhone, Rs. 190 on iPad). Here's how to use it:
1. Sign in to Tweetbot for iPad > tap Mute filters on the left side of the page > tap Edit on the top right. Tap the '+' button > tap Mute Keyword. Then type in the "football", or whatever you'd like to mute.
2. On Tweetbot 3 for iPhone, sign in and long-press the profile picture next to any tweet. Tap Mute to mute tweets from that profile. The mute filters icon is located on the bar at the bottom.
3. To mute hashtags (for contests etc.) you simply long press a hashtag on your timeline and then tap the duration you want it blocked for. You can also mute users like this by long pressing their profile pictures.
Block
This is an extreme option that's useful if you encounter spammers or if people are harassing you on Twitter. Blocked users cannot follow you or add your account to their lists on Twitter. You will not see tweets from these people, even if they mention your Twitter handle. People you block will also not be able to see your profile picture.
If you're sure you don't want to interact with a person on Twitter, try this.
1. Go to the person's Twitter profile, tap the gear icon > Block or Report. The Block option will be checked by default and you can select File a report if you want to tell Twitter about the problem. The Twitter mobile website doesn't allow you to mute people, but you can report tweets and block people on it.
2. You can select reasons such as "This is a spam account" or "This user is abusive". If you choose any of the options except "This user is abusive", you can click Report to let Twitter know about the problem. If you choose "This user is abusive", Twitter will ask you to fill a form specifying what kind of abuse you are facing and will ask for some contact details. The page advises you to contact local authorities if you feel like you're in danger.
3. To unblock a user, go to their profile, tap the gear icon > Unblock.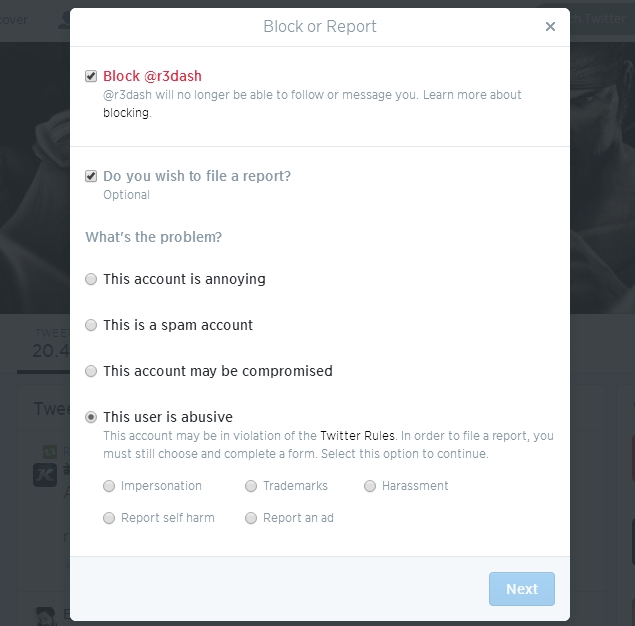 That should have helped you mute or block people on Twitter. For more tutorials, visit our How to section.